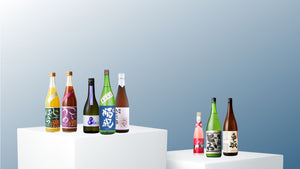 Exclusive Sake Bottles
Direct From Japan
Shipping to over 11 countries globally.
Sake Directly From Japan
Unique & Direct
We carry Japanese premium sake that is unique and hard to find, and ship directly from Japan.
Competitive Price
Through our direct connections to local breweries we cut out middlemen and pass on the cost savings to you.
Personalized Recommendations
Take our fun, 9-question quiz to help you assess your sake palate. You don't even need to leave your email to see the answers!
How it Works
Sake is a fragile product and long supply chains can negatively affect its taste. Instead, order from us, cut out the pricey middleman, and get your sake delivered directly from Japan in a few days.

Through our unique connections to some of Japan's best breweries and good rates with our logistics providers, we are able to offer sakes that are often hard, or impossible to find, abroad.
Find out more
Meet the People Behind the Sake
Tomohiro Uchiyama
Suzuka native who has studied biochemistry at technical college in Nagoya after which he started his brewing career. His goal is to craft a sake that can be enjoyed everywhere by everyone.
Takafumi Sumikawa
4th generation owner and brewmaster. While still at Tokyo Agricultural University he was the only student to intern at Takagi Shuzo (famous maker of Juyondai). His passionate approach to sake brewing, which he says is second to none, has earned him a reputation in the industry.
Yuki Ota
Yuki Ota is the youngest toji in Mie and is already setting new standards with his Hanzo & brand. After graduating from Tokyo Agricultural University and studying under a well-renowned Toji he took over the reins at his family's brewery in 2019.
Akiko Fujita
The first female Toji of Noto Toji, a trade group of skilled brewers that has been around since the late Edo period, Akiko Fujita's specialty is the yamahai method of brewing. 
Katsunori Kato
In search for a brewery that would allow him to make the kind of sake he wanted to make, he became master brewer in 2003. In order to make sake with the traditional Kimoto method, he directed the remodelling of the brewery.
Unique sake flavors from local breweries that I would have never came across without Kurashu. Their selection is carefully chosen and they do an amazing job at matching your tastes with the right sake profile.

Mar C.

Mar C.

★★★★★
Philipp and Ben from Kurashu are very knowledgeable about sake, selecting the most interesting and delicious bottles from artisanal breweries across Japan and tailoring their offer to match personalized flavors of each customer

Daniel K.

Daniel K.

★★★★★
This concept is fantastic for people who want to start their sake journey and get to know their own taste better. Not only the quiz is interesting and interactive, but also the sake selection is great. Really good bottles.

Roberto M.

Roberto M.

★★★★★