Tohei Shuzo
藤平酒造
Kururi, Chiba
Currently in their 9th generation of operations, this brewery, located in the Chiba peninsula just to the east of Tokyo, is run by three brothers as a family business. The sake does its name justice; with 'fuku' (fortune) and 'iwai' (celebration) in its name, this sake truly is worthy of a celebration.
People
People behind the scenes
Norihiki Tohei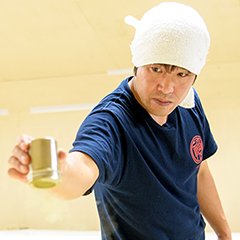 Junzo Tohei
Biography
The middle son is the brewery's toji and has over twenty years of brewing experience.
The youngest son, who became CEO in 2019, is also in charge of koji-making.
Interview with the Toji
(Coming soon)
History
Founded in 1716 the brewery has a history of over 300 years. Generation after generation, Tohei Shuzo has hand-crafted sake in Chiba's Kururi. It was the current owners' father and predecessor, Tohei Tomio, who conceived of the Fukuiwai sake, their flagship brand. Now, having inherited the legacy from their late father, his three sons continue the management of this traditional family business.

The middle son oversees the sake production as the brewmaster, the youngest son is responsible for the koji production and the business operations, and the eldest son handles all of the administrative work. The Tohei brothers craft each and every bottle with great care leading to a style of sake that cannot be matched by mass production.
The name Fukuiwai, a combination of "fuku" (fortune) and "iwai" (celebration), expresses the idea to cherish every moment in life and the special occasions.

The motto of Tohei Shuzo is to craft "only honestly delicious sake". Fukuiwai aims to be a mid-meal type of sake with a good balance of aroma and taste, closed off with a sharp finish. Their brewing process "begins with washing and ends with washing". With this special focus on the washing and soaking of the polished rice, Tohei Shuzo crafts sake with delicate flavors and distinct sharpness. Fukuiwai is brewed with the local fresh spring water "Kururi no Meisei", along with sake rice carefully chosen among top varieties such as "Yamadanishiki".